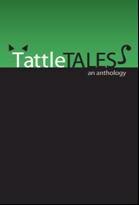 "Tattle Tales - an anthology"  
Editor: Frank Collia                                        
Contact:  813-672-1156
Local writers produce Anthology
Ten writers walk into a bar, er…library and then the words really flew! No, seriously, what happens when you get a group of writers together? Besides parsing words almost as poem writing service https://essaysleader.com/poem-writing-service/, it might result in a collection of short stories and poetry. That's what happened when South Shore Librarian Frank Collia invited local authors and writers to join him twice a month to share their work and ideas.
"It's taken more than two years, but we've assembled a unique selection of poetry and short stories," Frank stated. As "Editor-in-Chief" Frank has taken a step many librarians only dream of – producing a work of the written word. "Today, technology allows us to share the work of many writers without going through the traditional publishing route. Our anthology includes the work of both published authors and first-time writers. And the best part is that the reader will get a "taste" of many local, upcoming writers absolutely free.
The group began meeting more than two years ago to share their writing, receive positive input and helpful critiques. In addition, the writers have learned about the latest in publishing and marketing their work.
The anthology, "Tattle Tales" is available on Amazon and is a free download. Included in the book are works from local authors Lad Castle, Gayle B. Duke, Nicole Somme, Alan Breese Tisdale, Suzanne S. Austin-Hill, Ruthe Foy, Jerome Levy, Steve Murray, Gloria Wilkerson, Michael Sonneveldt and Robin Watt. Other local writers participating in the book launching include authors James Paddock and Elysa Hendricks.
A Book Launch party will be held on Tuesday, February 11th, from 6:30 – 8:30 PM at the South Shore Regional Library on Beth Shields Way in Ruskin. Local entertainer Sandy Nitch will sing several sets between readings from Tattle Tales. Drawings for free books from members of the writers group will be done throughout the night. The public is invited to come and bring their Kindles, i-Pads and other e-reading devices.
The South Shore Writers' Group meets twice a month on the 2nd and 4th Mondays from 1PM to 3PM at the South Shore Regional Library. The meetings are open to everyone interested in writing.