Kids' Programs 
The SouthShore Regional Library, in partnership with the Hillsborough County Library System, and the SouthShore Friends of the Library, present a very large offering of pre-school programs for children. Children attending must be accompanied by their parent or caregiver. 
Michelle Weinstein Reports:
On October 12, 2013, the SouthShore Regional Library hosted a special Story Time with Elmo! Children from our community got to meet and hug the amazing and wonderful Elmo.  At the program, we read "Another Monster at the End of This Book" by Jon Stone.  Then we sang and danced with Elmo to "If You're Happy and You Know It" and the "Elmo Hokey Pokey."  Finally we colored some coloring sheets with Elmo and his friends, and made an Elmo mask and puppet.  All the families got to have special one-on-one time with Elmo for pictures, hugs, and high fives.  Thanks to the SouthShore Friends for making this event possible.
2013 Summer Programs 
Article By Ray Reyes,  Tribune Staff, Published: June 15, 2013 
SouthShore Library, Ruskin 
Children squealed and giggled with delight when a woman dressed up like a mad scientist pulled out a steaming chunk of dry ice. Alyssa Rucker, wearing a white lab coat, broke the ice into smaller pieces and dropped them into a beaker full of soap and water.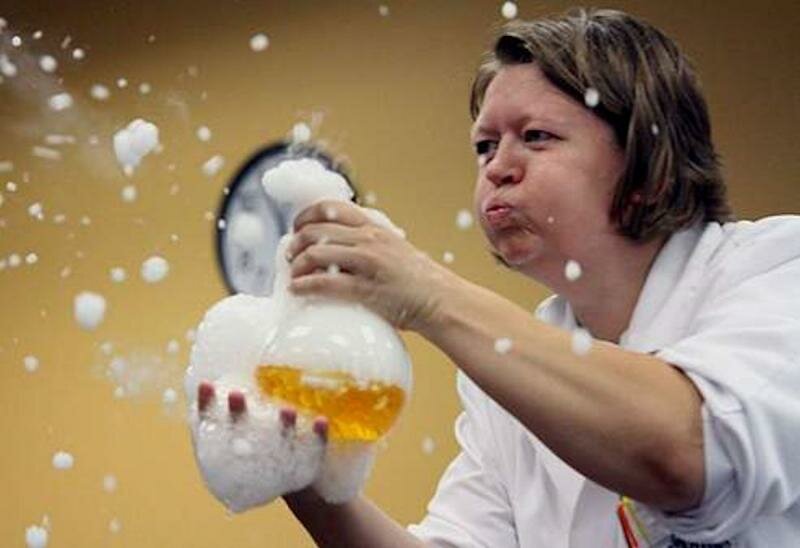 What happened next was simple chemistry, and the children roared in approval. In less than one second, the beaker was overflowing with bubbles. Rucker grabbed a handful and blew the suds into the audience of about 100 children. 
"That's awesome!" once child yelled from the back. "That's amazing!" said another.  
Saturday's Festival of Bubbles at the SouthShore Regional Library in Ruskin was one of many programs planned this summer by the Tampa-Hillsborough County Public Library System. Michelle Weinstein, librarian of the SouthShore branch at 15816 Beth Shields Way, said all 27 libraries countywide will have programs on reading, science, music and other activities tailored for children who are out of school for the summer. 
The bubble show was funded by the Friends of the SouthShore Library. The money was used to hire Rucker, who works for Mad Science, a company that provides interactive science lessons for children. "We're learning a lot," said John Trout, who brought his 7-year-old daughter, Anne. "It's good, clean, safe fun." 
The star of Rucker's show was carbon dioxide, the stuff of which dry ice is made. Using different combinations of soap, dry ice, and hot or cold water, Rucker created bubbles that clumped together or billiard ball-sized bubbles filled with carbon dioxide mist. She blew bubbles into the crowd and even put some on children's heads, where they popped then dissipated in what appeared to be a puff of smoke. 
Along the way, Rucker recited scientific facts. "If you notice, these soap bubbles do not float, they sink," Rucker said. "Because carbon dioxide is heavy. They make things sink." Rucker also explained to her audience members that they've consumed carbon dioxide before, in the form of soda. And the gas, she said, also makes people burp. 
"So who wants to taste a burp?" Rucker asked as she put dry ice into a slender beaker and the gas billowed out from a hole in the side. She then asked the children to stick their tongues out so they could taste the gas. 
"It tasted like soda without the flavor," said 11-year-old Kiana Bradford. Kiana's mother said she takes her family to the SouthShore Library every weekend. "It's informative and fun," Angela Bradford said. "There's always something new to learn. It's free fun." 
Rucker said it's important to entertain as well as educate. "This is a good way to be interactive," she said. "And science is all about hands-on learning. Half the time, the kids don't even know they're actually learning something." 
2012 Childrens Programs Report
The SouthShore Regional Library hosted 509 childrens' programs.  These programs were attended by 14,533 children and their families.  Each month, we do free programs for children and their families.  These include programs such as Dr Seuss' Birthday, craft and art programs, science programs, puppet shows, preschool programs, drumming circles, magic programs, animal programs, and many more. 

One of the highlights from this past year was the Family Fun Fest for preschoolers and their parents. This program was hosted with a grant from the Community Foundation of Greater Sun City Center and with the United Way of Tampa. At this fun event, the children visited six stations for each of the early literacy skills. Activities at the stations included a vocabulary eating monster, making a bookmark, and singing the Five Little Ducks song.
Family Fun Fest Picture: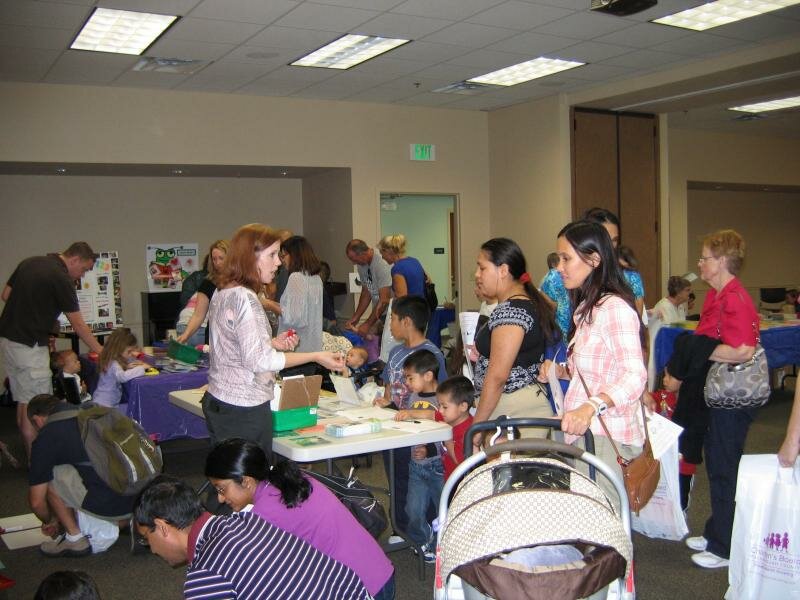 In March, the library hosted our Happy Birthday Dr. Seuss program. This program included fun Seuss-like activities and games, making a Blue Fish craft, and having some birthday cake. Everyone, child and parent alike, always has fun at this annual library program.
The Blue Fish Craft Project: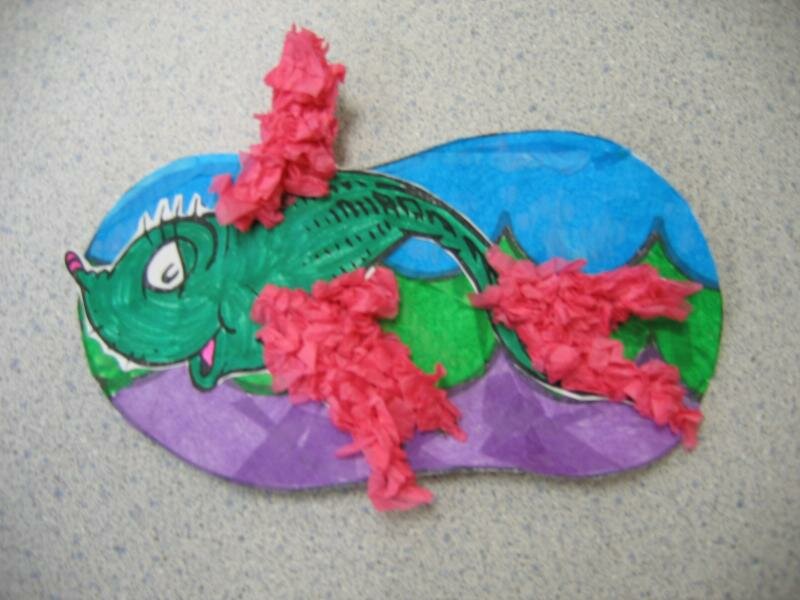 At the Drum Magic program, the library had its very own drum circle. Families played and danced together to the beat of over 80 drums. Several people came to the door to see what this loud sound was at the library. Drum Magic picture: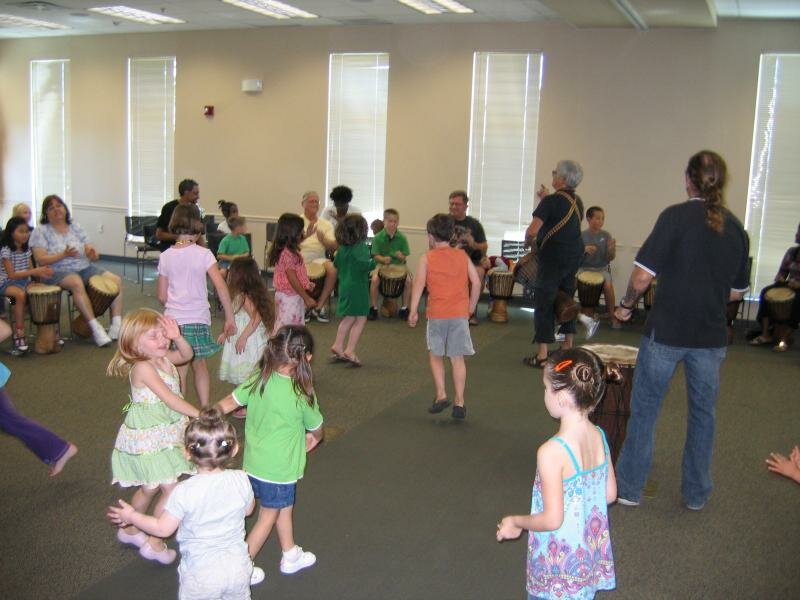 Thanks to the Friends of the SouthShore Regional Library for all of your generosity and support of the children's programs. 
November 11, 2011: In November, we did the Velveteen Rabbit puppet shows as part of the SouthShore 5th Anniversary Month-Long Celebration. We had the program several times and they were enjoyed by 359 people. The cost per person was $2.36....fun, educational and cost effective! Below is a picture for your enjoyment.  Michelle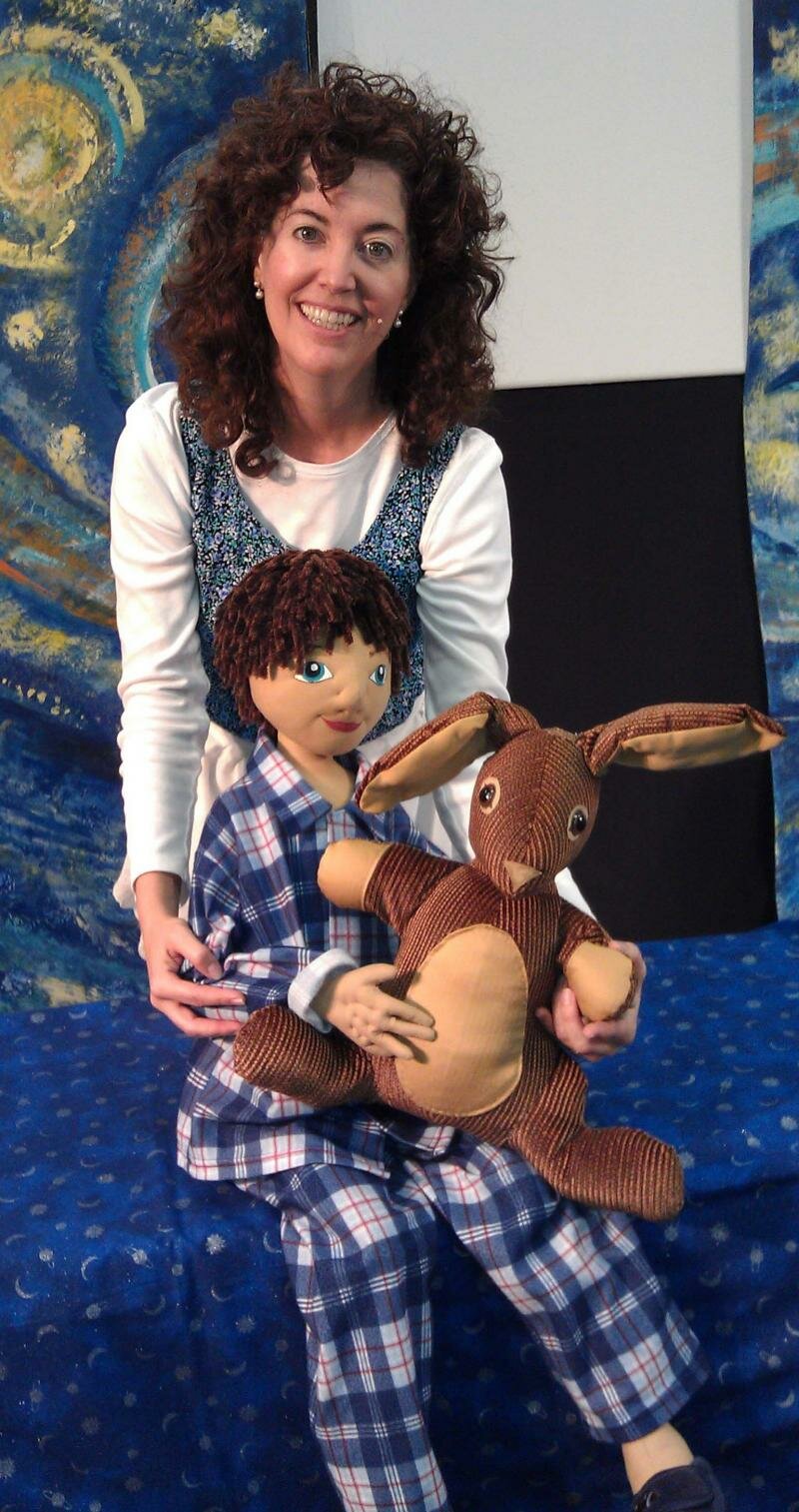 http://digital.library.upenn.edu/women/williams/rabbit/rabbit.html
If you click on the above web site, you will find much more about the Velveteen Rabitt series of programs.