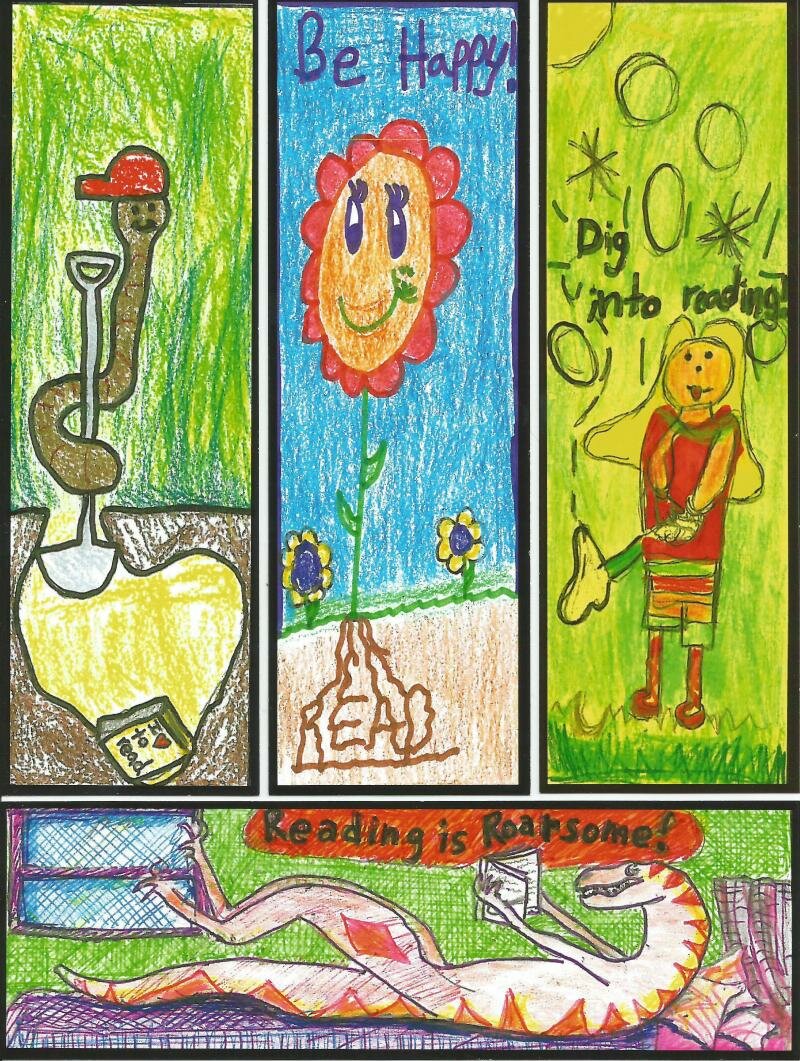 (ABOVE) The Friends of the SouthShore Library sponsored the 2nd SouthShore Library Annual Bookmark Contest and Awards Ceremony. Children in grades K-5 created colorful bookmarks to go along with this year's summer reading theme, "Dig into Reading". There were five first place winners who received $30 in cash and five second place winners who received $15 in cash. Each winner received 25 of their printed bookmarks. The awards were presented at a ceremony which also featured a drawing program for all attendees with cartoonist, Leah Lopez. 
The printed bookmarks of the children of SouthShore will be given out at the library throughout the year. A special thank you goes to Michelle Weinstein, the library's children's programs coordinator, and Laurie Burhop, the library's arts coordinator. 
The student artists are:
Be Happy! Nerilys Molina, 4th grade, Doby Elementary, top left
Dig into Reading, Anna Wright, 1st grade, Apollo Beach Elementary, to center
I Love to Read, Samuel Wright, 3rd grade, Apoolo Beach Elementary, top right
Readingis Roarsome!, Julianne-Marie A. Pascual, 3rd grade, Summerfield Crossing, bottom
Comments from Laurie Burhop, Art Coordinator at the SouthShore Regional Library 
I wanted to share some of the art programs we did this February:
There were four teen classes offered; drawing and three Mural Classes.
There were three children's art classes in February. We learned about the artist Picasso and the students did some cubism drawings.
We had a picture in the Observer that Roz (thank you to Roz and the Observer News!) took; and I hung a display of the some of the student's work by the studio.
The ceramic classes were a huge success and I will offer them again either in the summer or fall. I really received some nice feedback from the students. The instructor Stephanie Grimes did a great job. She spent a good deal of her own time firing the clay at her home.
We had 48 people at our January Opening Art Reception. There are many great artists in SouthShore.
As always I want to thank the Friends of SouthShore Regional Library for their continued support for the John Crawford Studio's art programs. I really do appreciate it!
Laurie Burhop, Arts Coordinator