To view the programs that are currently scheduled, click below on "PROGRAMS", and use the "horizontal arrow" to scroll to November.  
"PROGRAMS"
Visit our new Plaza
Keeping pace with a national trend, the SouthShore Regional Library now has another area for public use.
The James J. Harkins IV plaza is open. It is about 7,000 square feet of open air community space. The plaza opened in October 2011.
Located on the library's north side, adjacent to both its main corridor and the children's wing, the new space also is known as the Sanpiper Plaza.
This space is envisioned as an outdoor venue; lending itself tastefully as well as functionally to a wide range of purposes. There have already been teen music events as well as a part of the Festival of Trees program. And of course, it can also be used as an area to read when weather permits. 
Yet to be installed but funded, is a unique design "object of art" by Seattle-based Koryn Rolstad Studios. It is inspired by the many salt and freshwater shore birds found in our region.
The art is several large shade umbrellas, measuring 12 by 12 feet, with tables and chairs in four groupings. They are scattered across the plaza. 
The plaza is enclosed with a permanent low-level masonry wall in a serpentine configuration that is suitable for seating.
A "yet to be added" are "sandblastings" on the the patio stone in circular "water drop" patterns which, in the words of the design firm, "connect the different feature of the patioo."  
Landscaping includes a half dozen oak trees evenly spaced on the long edge of the plaza near the seating wall, accented with palms set between them. The project is bordered by a wetlands area and enclosed in security chain link fencing.
At least 100 chairs placed theater style can be accommodated. A crowd of 300 will fit comfortably into the plaza. 
Uses of the space is envisioned as both active and passive. The north side of the library structure is laid out in such a way that catering trucks will be able to access the patio. Therefore, community events involving food service can be held there. 
When the space is not in use for an event and weather conditions are not an issue, people can simply relax out there with a book or their electronic equipment, since the umbrella areas will be wifi equipped.
The key concept is "flexibility"; the area is intended to accommodate movement of some of its furnishings to be rearranged as required for a specific use.
The cost of "Sandpiper Plaza" was about $130,000 and the money was  included in the original budget for the regional library.
Like modern libraries across the nation, the SouthShore Regional provides a wide variety of services to patrons. In addition to its age-appropriate hard and soft cover collections, its audio and video stacks, its current magazine racks; library features include a multi-faceted schedule of classes, the Crawford Art Studio, a genealogy department, computer lab, a used book sales room, vended snack bar, conference rooms and a partition-enabled large community room utilized for everything from early voting to small or large public meetings.
Recognizing this range of services, Principal Librarian Lorri Robinson described development of the Sandpiper/Harkins plaza as "representative of how our library - and modern libraries around the country - are striving to provide a welcoming environment where the community can seek information, share ideas and enjoy cultural events".
Jim Duffy, a founding member of SouthShore Regional's Friends of the Library, summed it up even more succinctly, saying "Libraries are not just for books anymore."
Supported by taxes, use of the various library features generally is without charge.
Below, the library staff and the Friends Board enjoy one of the first meetings on a wonderful spring day in 2011 on the plaza. Bottom left to right; Mimi Rose & Tom Rose (Volunteer Directors), Jim Duffy (President), and Gail Daane (Treasurer). Top left to right John Smith (Vice President), Renelda Sells (Library Chief), Liz Ward (Secretary) and Lorri Robinson (SouthShore Supervising Librarian).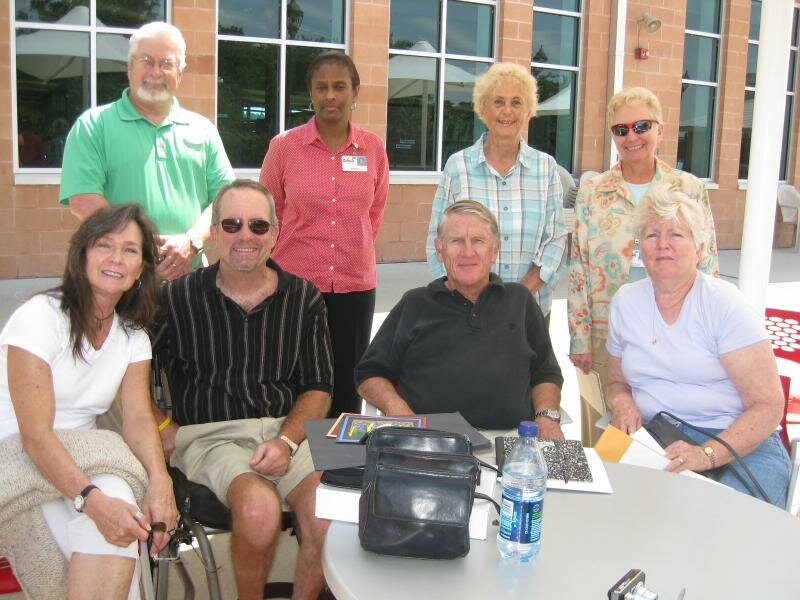 Newsletter: Jack Fischer is a Friends Board Member and helps in many ways. He is the "Publisher and Editor" of the Newsletter, The newsletter is published several times a year and is available on the "Special Priced Book Sales Table" that is to the left as you enter our Book Sale Room at the library.